La Moni Stat comes home for SF edition of her Asian drag monthly SENSAZN
The Bay surely misses Moni Stat, the currently-LA-based shady queen whose rise began on the storied SoMa stage of The (temporarily paused) Stud. Happily, she is coming back to bless us with the first out-of-town tour of her Asian drag show SENSAZN—alighting upon San Francisco at The Edge on Sat/17— which has been reborn in its form of a Wednesday night weekly at downtown LA's Redline bar after getting its start in pre-pandemic days.
There should be no explanation necessary for why it's urgent that Asian performers have their own dedicated space in clubland—and she's certainly not alone in the mission to center the AAPI experience in nightlife. Even so, in an email interview, we asked Moni Stat to pinpoint the moment in which she knew that the world needed SENSAZN.
"When that last president called it the 'China virus,' of course the backlash intensified," she wrote. "I knew I needed to gather my fellow Asian dolls as a form of protest. As a part of the drag and trans community, this is how I face these issues."
If you would like to make sure your monies get into the handbags of stellar Asian queens, your chance has arrived. This Saturday, Moni Stat will take the stage with local queens Ehra Amaya, Neauxleigh, and Kipper in not one, but two afternoon shows.
What to expect? "A good time brought to you by a saucy hooker with bad credit and a receding hairline," says La Moni. "And maybe, JUST MAYBE—" … but we'll let her finish that thought in context. Read on on for more SENSAZN.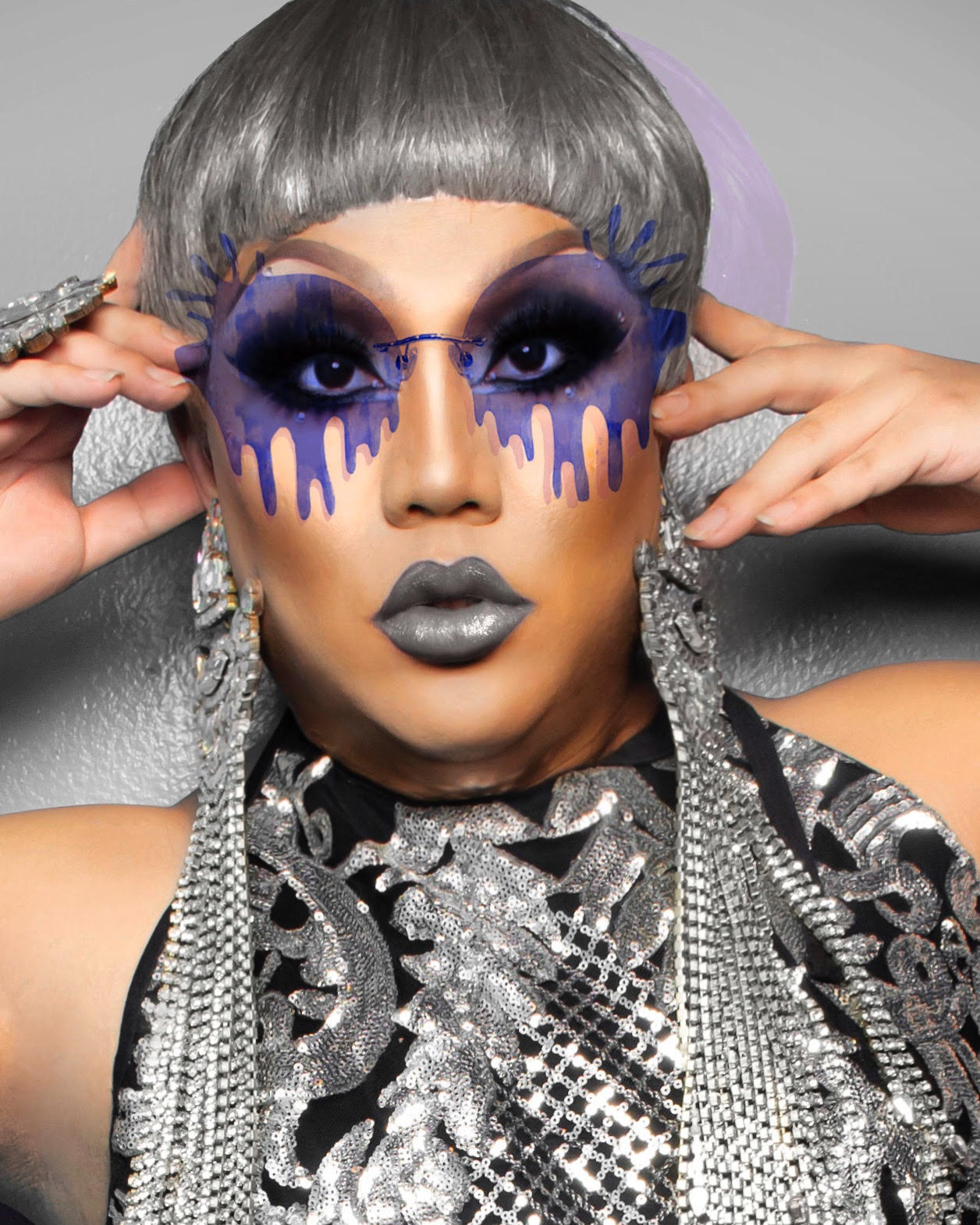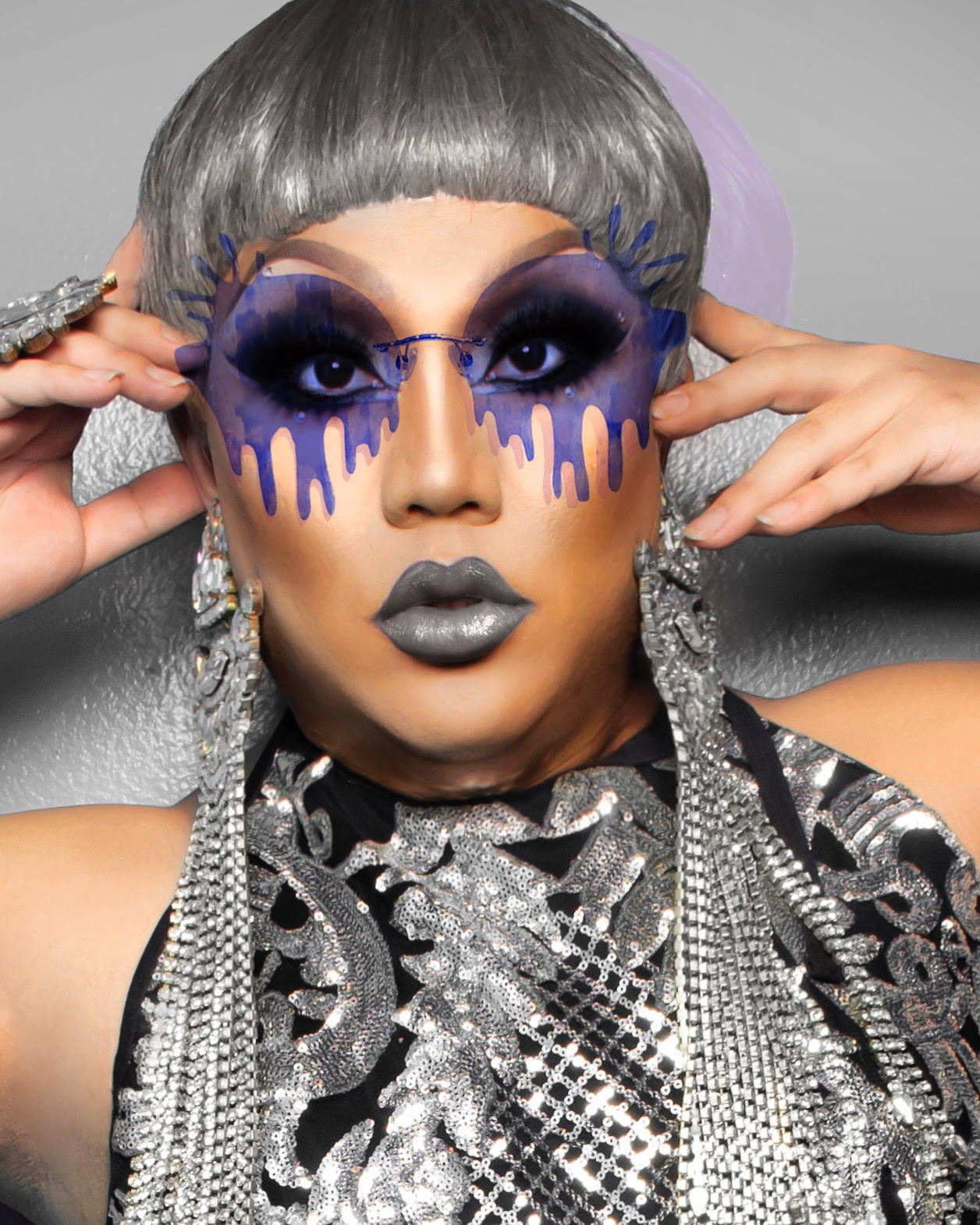 48HILLS We're clearly living in a time where we need more AAPI representation on so many levels, but was there a specific moment or event that motivated you to create SENSAZN?
MONI STAT Our lack of representation was literally the impetus for SENSAZN. Its concept has been in my deck of cards for quite some time. I premiered the show in February 2020 and was planning more, but then lockdown happened. Things went online, sure, but truly there is nothing more gratifying and addicting than the roar of live audiences. I'm so happy to be returning.
Of course, this is personal. As an actor, I've been rejected at countless auditions because they weren't looking for an Asian character, or they weren't looking for an effeminate Asian man. In the gay community, Asian men are often either fetishized or ostracized. Everyone on Grindr has seen "No Femmes No Fats No Asians "—I mean that's me in a nutshell LOL.
So when reports of the virus started filtering out of Wuhan, I was expecting the AAPI community would get some flack for everything that was going on. Then when that last president called it the "China virus," of course the backlash intensified, and I knew I needed to gather my fellow Asian dolls as a form of protest. As a part of the drag and trans community, this is how I face these issues; I'm just doing my part. SENSAZN is here to let people know that we are not just your tokens, that there is space for us and that we are stronger as a community.
The drag and trans community has ALWAYS been on the forefront of these types of issues and I feel I am just doing my part. 
The Sat/17 SENSAZN SF lineup: Neauxleigh, Ehra Amaya, and Kipper. Photos courtesy of artists
48HILLS What are the historic strengths of Asian drag in the Bay Area? Who are some of the scene's icons (besides yourself), classic shows, venues you'll never forget?
MONI STAT I started doing drag pre-social media boom and pre-Drag Race, back in 2004. I had to learn how to do make-up, hair, put together outfits, and walk in heels from my elders because *YouTube tutorials* didn't exist. And I could count the number of AAPI drag performers out there in one hand. 
Giving credit where credit is due, I'm a true blue bar queen, and got my professional start at The Stud. If it wasn't for queens like Heklina, Putanesca, Anna Conda, Landa Lakes, and Cookie Dough; promoters like Dave and Jose of [email protected] Fridays at the End Up and Gus Bean; who liked me enough to support me and give me the opportunity to shine, I think I would've had an incredibly difficult time. But these people really opened doors for me. They gave me the space and the stage to sharpen my craft as an emcee and performer.
Also, Marke B really gave me a lot of press back then which was kind of unheard of. I was 21, had only been doing drag for a year, and I was headlining events with the big club names at the time. It was both intimidating and validating. There was nothing like the rush of seeing your name on a flyer. I didn't know what I was doing half the time. OK I still kinda don't, but at least this time around I'm having much more fun with it LMFAO.
As far as the Asian drag community was concerned, I never really felt like I was part of it. I didn't feel welcome… and that's OK. I'm not everyone's cup of tea! However, I am grateful for the truly iconic Tita Aida and Cecilia Chung, both incredible and prolific Asian American activists and trans women. They also took me under their wing. I met Tita Aida outside of N-Touch on Polk, where she hosted her weekly Thursday night show (wow, this is really old-timey.) She eventually booked me to emcee the API stage at SF pride. I did that every year for a decade.
Now being a little bit older and wiser, I'm super grateful for my elders who gave me opportunities and taught me so much. Living in LA, I've had to marry the edgy punk rock mindset of San Francisco performance with the glamour girl showmanship that Southern California really responds to, and it's proven successful for me.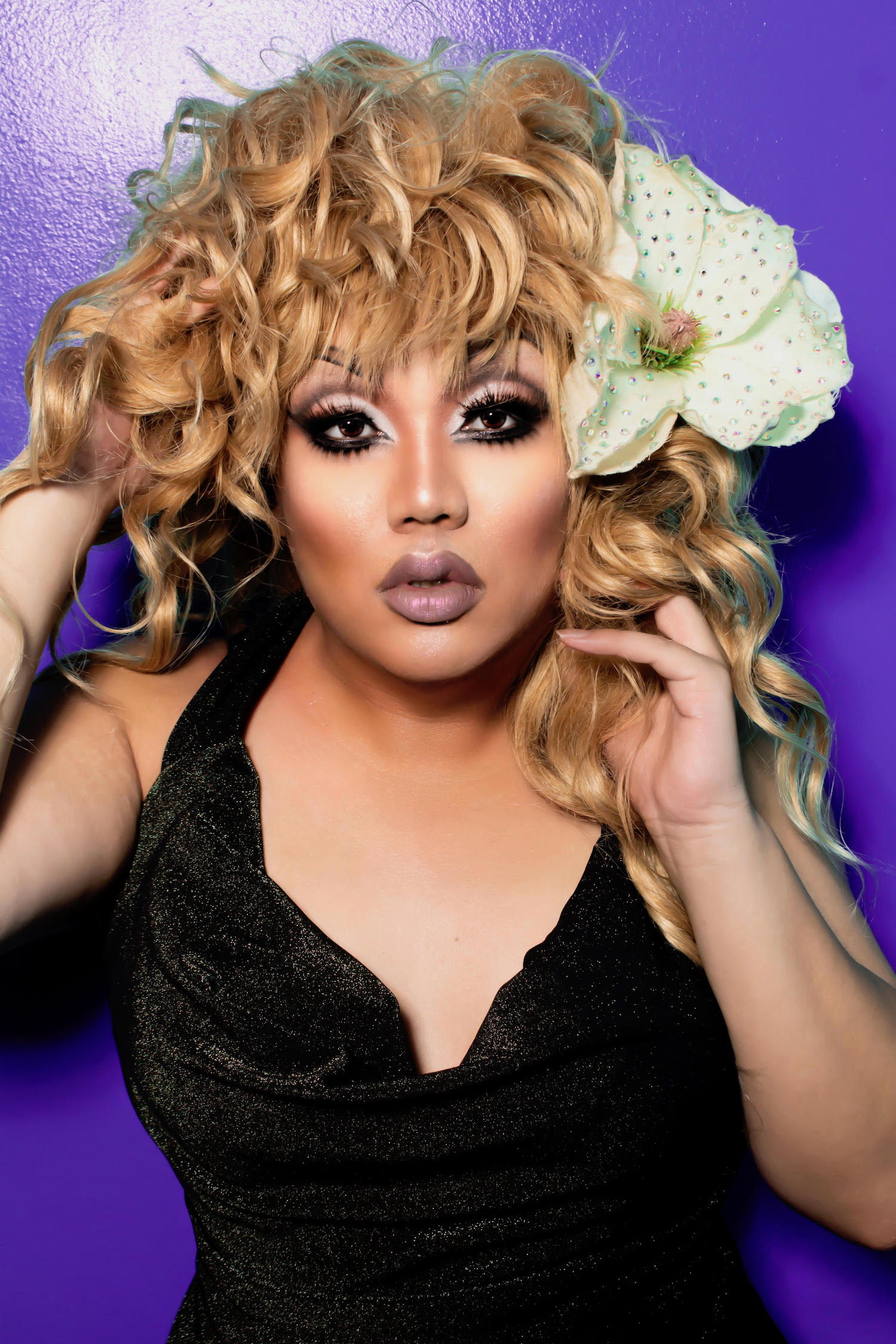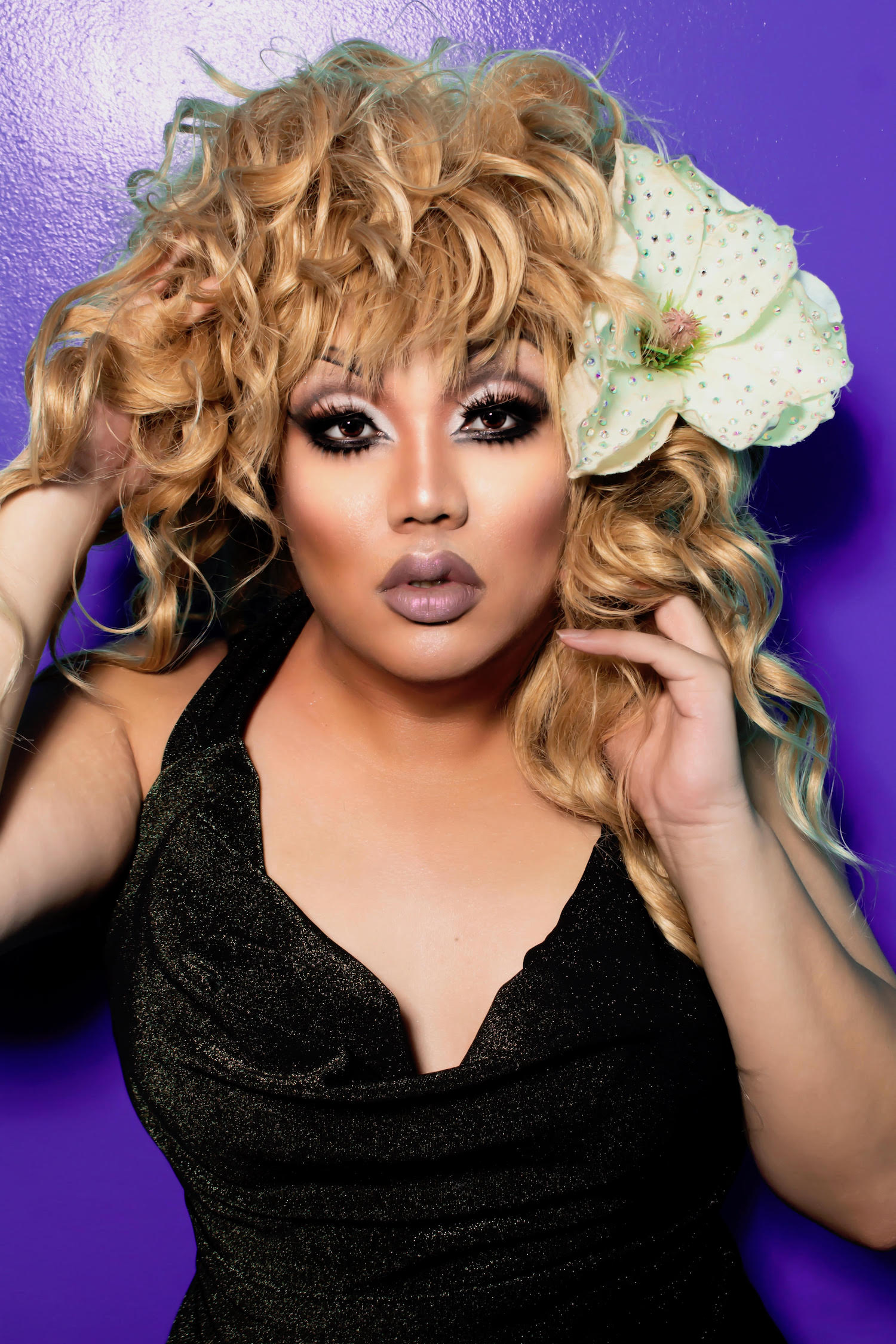 48HILLS If I'm understanding the internet correctly, the show has a weekly Wednesday slot at Redline DTLA. When did it begin there, have there been other venues, and how has the reception been so far?
MONI STAT SENSAZN LA happens monthly at the Redline in downtown Los Angeles, every third Wednesday. Oliver Alpuche (the owner of the Redline) is gracious enough to give me a stage to live out my fantasies LOL. I book performers from all over, calling it "my little show that could."
My only rule is you must be of Asian American and/or Pacific Islander descent. Believe me, even that is an issue sometimes … I've gotten called a racist or "gatekeeping" from some younger non-BIPOC queens who are miffed because I don't book them, but I'm simply creating a space for me and my sisters to twirl. We don't get enough shine as it is. 
The crowds really took to my vision. I have an incredibly talented cast of entertainers who really give it their all. I mean shit, I have a random Wednesday night slot at 9 p.m., but the people are still coming in. The show's amazing reception from everyone has been sincerely humbling.
Though my bailiwick now is mostly glamour and old Hollywood type lewks, I welcome performers of all kinds to the show. Who am I to be a judge of what someone's art is? I got my beginnings at Trannyshack and Charlie Horse where anything went (quite literally), so I'm receptive to all sorts of performance and drag types, but again, YOU HAVE TO BE AAPI to twirl on my stage.
The Redline in downtown LA is my home, and will always be the home of SENSAZN, but I do plan to take my show on the road. We are currently booked for nights in San Diego and San Francisco, and I'm working on future SENSAZNs in Vancouver, Seattle, Portland, New York, and DC. 
48HILLS A particularly memorable moment from one of the shows that you've already produced?
MONI STAT I mean, every show is memorable. My job as a producer, director, promoter, and emcee is to make sure you have a memorable night, and I serve that in spades. In our LA shows, we have girls jumping from speakers and landing in the splits. We have girls doing drag numbers in the middle of traffic. My LA cast turn the party every time, and it's really a fun night. 
48HILLS What are you most looking forward to about the series' SF debut?
MONI STAT Like Tony Bennett, I left my heart in San Francisco. It will always be my spiritual home. It is where my career started, and probably, where it will end. The cast for SENSAZN San Francisco are some of the most talented performers I've ever worked with. It's a mix of old friends and new ones, and I am grateful that the Edge Bar was receptive to my idea, fully throwing their support behind my vision.
What can audiences look forward to? A good time brought to you by a saucy hooker with bad credit and a receding hairline, and maybe, JUST MAYBE, if they tip me a Benji … a blow job by the dumpster in the alley.
SENSAZN SAN FRANCISCO Sat/17 two showtimes; 2 and 4 p.m. (1:30 and 3:30 p.m. seatings), reservations encouraged. The Edge, SF. More information here.
Dave says: If you need a cosigner, you're not ready – Northeast Mississippi Daily Journal
How to improve your credit score in 2021: Easy and effective tips
If you've ever wondered "What is my credit score?" it's probably time to find out. Having a good credit score can make life a lot more affordable. If you're about to buy a house or car, for example, the higher your credit score is, the lower your interest rate (and therefore, monthly cost) will probably be.
Your number may also be the deciding factor for whether or not you can get a loan and ultimately determine if you are even able to buy something you want or need.
So, yes, the goal is to have the highest possible credit score you can, but increasing the number doesn't just happen overnight. There are important steps to take if you want to increase your score, and the sooner you start working on it, the better.
"If you're trying to increase (your credit score) substantially to accomplish a goal, you're really going to have to have as much lead time as possible," said Thomas Nitzsche, director of media and brand at Money Management International, a nonprofit financial counseling and education provider that advises people on how to legally and ethically improve their credit score on their own.
If you have fair credit and you're trying to improve the number for a house purchase, for instance, you'll want to start working on it at least a year in advance, he explained to TMRW.
But even though that sounds like a long time away, you can (and should!) start doing things right now to bump that number up. Below, see seven things you should do — and not do — to help improve your credit score:
1. Review your credit report
The first thing you'll want to do is pull up a copy of your current report so you know where you stand. You can get free reports from all three agencies — TransUnion, Experian, and Equifax — at annualcreditreport.com. Nitzsche said it's important to take a moment and understand the financial snapshot of where you are today and where you want to be.
You'll also want to take some time and look for any errors on your report, which could negatively impact your score. "If your name is misspelled, that's not going to hurt your score," he explained. "But if you see a late payment or missed payment (that's in error), or maybe you have an account that should be reporting but isn't, then that's a problem and that will impact your score."
If there is an error, you should dispute it and try to provide as much proof as you can.
One other thing: You can also ask a creditor to remove an issue if it's been corrected (i.e., if you paid off a collection debt). Nitzsche said it doesn't hurt to ask and the worst thing they could say is no.
2. Have good financial habits
"The biggest part of your credit score is payment history, so the most critical thing is never missing a due date," Nitzsche said. Set up a monthly autopay or add all due dates to your calendar so you never miss a bill.
You can also achieve a higher score when you mix different types of accounts on your credit report. It may seem counterintuitive to get extra points for having debt in the form of student loans, mortgages and auto loans, but as long as you're paying them off responsibly, it shows that you're reliable.
3. Aim to use 30% or less of your credit at any given time
Know your credit card limit, and try not to use any more than 30% of that number each month, otherwise your score could lose points for too much credit utilization.
Another thing you can do is ask your bank to increase your limit. "That will give you more flexibility to spend more," Nitzsche said. You could also pay it off twice a month to keep the balance low. But he does warn that you never know when the balance is going to be reported to the bureau. It can happen at any point during the month, so it might be the day after you make the payment or the day before. "You don't necessarily want to use the card and pay it the next day because that doesn't give the bureau the chance to know that you're using it," he said.
4. Avoid requests for new credit
If you're looking to increase your score around the time you want to buy a house or car, you won't want to open up a new line of credit, like a retail card, credit card or loan. That's because "hard" credit inquiries like those can lower your score, and sometimes it comes down to a few points over whether you're approved or what your rate will be, Nitzsche said.
"Soft" credit inquiries, like when an employer checks your credit or when you pull your own report, won't affect your score.
5. Keep all accounts open, even ones you don't use anymore
Even if you don't use that credit card from college, it's a good idea to just keep it open because closing it could hurt your score. Nitzsche explained that you'll be dinged some points for each account that is closed. If you want or need to mentally break up with a card, just cut it up instead.
6. Build your credit if needed
If you haven't established credit yet, you might not even exist … in the credit report space, that is! "If someone has never fallen in delinquency on any subscriptions or utilities or never had collections on anything and they have not utilized credit cards or loans in the past seven to 10 years, they may not have a credit profile at all," Nitzsche said. "That presents a challenge when you want to buy a home."
If this sounds familiar, you may have to get a secured credit card where you put down a deposit, he advised. "You still have to make payments and use it responsibly. Not all banks offer them but you can usually check with your local bank or credit union."
7. Reach out for help
There are many apps and credit-monitoring services that can help you stay on top of your credit score. You could also reach out to a professional credit counselor who can help you navigate your specific situation. (Here's a good resource about finding a reputable service.)
One last thing: Nitzsche warned that everyone should beware of credit repair scams that claim to be able to increase credit scores for an advance fee to get accurate negative information removed (even temporarily) from credit reports.
Related:
Lifestyle News | ⚡How J&G Credit Recreations Assists Individuals to Gain Financial Stability Through Credit and Homeownership – LatestLY